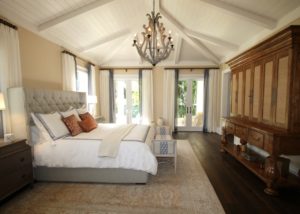 Ceiling medallions are decorative components that serve as a transition between the light fixture and the ceiling. They often come in a round shape, hence the name "medallion," but can also come in a wide variety of other shapes and styles as well. Ceiling medallions are typically purely decorative, but they can also function as a cover for the the light fixture's electrical box. Deciding on a ceiling medallion may not be easy if you don't know what you're looking for. For that reason, we've produced an article to give you tips for finding the right ceiling medallion.
History
Ceiling medallions became popular in Victorian homes in the 1800s. As they were typically custom made of paper mache, plaster or wood, they were more popular with the upper classes. They could add elegance to the ceiling, focus the eye on a fancy chandelier or lighting fixture and generally add a sense of sophistication to the room. As time has gone on, ceiling medallions came to be mass produced and constructed of much cheaper materials such as polyurethane foam.
Size
Before worrying about all the decorative motifs that are available in the ceiling medallion world, get an idea of what size will work best for your room and light fixture. You want a piece that's proportionate with the ceiling, complements the fixture and doesn't end up becoming the focal point of the room itself. One equation that's used by many interior designers is to divide the square footage of the ceiling by 7 giving you the size of ceiling medallion that should fit the room properly. Of course this isn't an immutable law, but it will give you a good starting point.
Style
Because many ceiling medallions are now mass produced, there's a huge range of styles and designs that are very affordable. But that doesn't mean you should buy the gaudiest one you can find or afford. Take a look at the other features of your room. If you already have crown moulding, baseboards or other trim in the room, your ceiling medallion should match those pieces. Also take into consideration your lighting fixture, furniture and flooring to try to get something that complements these items.