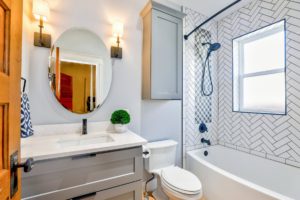 Although wallpaper is quite popular in bedrooms, living rooms and dining rooms it's only recently that it's become used in bathrooms. Part of the reason for this is the improvement of wallpaper adhesives and the advent of splashproof papers. So if you're looking for a unique feature in your bathroom, you might want to consider the addition of some wallpaper. To help you with your decisions we've come up with an article that goes over four ways to use wallpaper in your bathroom.
Half Baths
Half baths are the perfect place for bathroom wallpapering. Since there's no bath tub or shower you don't have to worry about excess moisture and humidity causing havoc with your installation. Small rooms such as these are also conducive to large, bold designs and there won't be any problems if you want to do up all the walls.
His And Hers Sinks
If you have a double vanity in your bathroom, this is a great place to add some wallpaper. You'll obviously have some space in the bathroom if it's able to contain double sinks, so it should be far enough away from the shower or tub to prevent any moisture problems. Choose a wallpaper that will complement the mirrors and sink fixtures.
Accent Walls And Borders
You can use wallpaper on a single wall in your bathroom to create an accentuated feature wall. You can simply opt for a different colour than the rest of the walls, but because wallpaper gives you such a large range of designs and textures you may as well use this to your advantage. Go for something that will boldly break up the impression created by the other walls. You can also use wallpaper to create borders around a mirror or door or along the edge between the wall and ceiling.
Wallpaper Artwork
If you come across a wallpaper design that really appeals to you but have moisture or humidity problems that would cause problems with wallpapering your bathroom, consider putting a sheet into a frame and hanging it up like a piece of artwork.