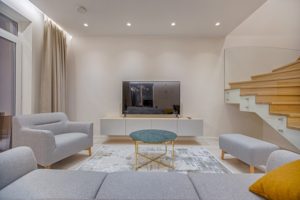 An easy way to give a room an added pop is to decorate the ceiling. And while this doesn't have to cost a lot of money, it can still have a big effect on how the room is perceived. If you're looking for an affordable way to bring your ceiling into the conversation, check out some of our ideas on how to decorate ceilings on a budget.
Ceiling Medallions
A ceiling medallion is not only a practical way to hide the unattractive wires and light box of the light fixture in a room, it can also become a beautiful centrepiece in itself. These days these ornamental features are usually made of polyurethane foam which makes them affordable, lightweight and easy to install. Choose a ceiling medallion that works with the other elements in the room. If your furniture is ornate, choose a ceiling medallion that's similarly detailed. If you've gone for a sleek and modern looking room, a simple ceiling medallion shape will provide continuity. If the room already has crown or chair rail mouldings, match your ceiling medallion to their style for the best results. A ceiling medallion is an economical way to decorate your ceiling that still provides a strong design punch.
Painting
No longer do ceilings have to be a boring white. You can paint your ceiling to match your furniture, the floor or make it stand out on its own. Smaller rooms benefit when the ceiling is the same colour as the walls. If you have moulding around the room and/or a ceiling medallion, a neutral ceiling colour will highlight those features. A strong, brightly coloured ceiling works well in rooms with neutral coloured furnishings and walls. Adding pinstrining to the edges of the ceilings can create the illusion of a tray ceiling.
Ceiling Decals
There are a lot of decals and stickers on the market these days that work really well on ceilings. You can add floral flourishes, pinstripes, skyscapes or interesting patterns and shapes that will immediately draw the eye upwards. Decals and stickers are very affordable, easy to apply and can be customized to work with both your room and your personal tastes.