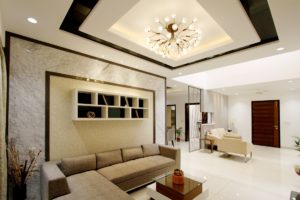 You may not have considered it before, but others definitely have. Decorating your ceiling has become the newest trend in interior design. Working with the so-called fifth wall can add pizzazz to a room that a simple white ceiling is unable to achieve. For those who are ready to do something bold with their ceiling, we've come up with four ceiling decoration tips to make the transition that much easier.
Try Wallpaper
You may never have thought of wallpaper as an ideal covering for your ceiling and you couldn't be blamed. It's not called ceiling paper! But wallpapering the ceiling has followed in the footsteps of the revived popularity of wallpaper itself. This isn't your grandmother's wallpaper either. The number of designs has increased, while the manufacturing of the product itself has been improved. If you can't find a design that you like straight off the shelf you can even get custom made wallpaper these days.
Size Up Your Room
Decorating your ceiling works better in larger rooms. When the ceiling is low or the room is small, a decorated ceiling can make things look even smaller. It may be best to opt for a neutral colour if you have a low ceiling or little square footage. Work the ceilings in your larger rooms. The space will allow the extra colour and texture to breathe.
Keep The Colour Balance
Don't try to go too far out when it comes to colour schemes. If you've already got some flow going with your furniture, carpet and accessories, keep with the theme when it comes to your ceiling. More than three different colours in a room creates clash rather than harmony.
Work With What You Have
If your ceiling is already textured or has some intriguing details, use those as a starting point to build upon. Add wallpaper or colour into the spaces between beams. Brighten up the ceiling medallion and moulding with a colour that matches other elements in the room. Add stippling to give your ceiling a texture that works with the furnishings or flooring. If you can match what already exists with the design you see in your mind, things will come together more naturally.
Four Ceiling Decoration Tips