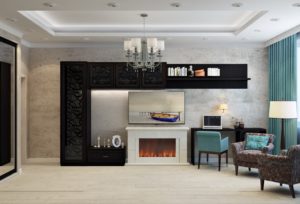 If you're looking for a stylish, but effective way to heat a room in your house, you might want to consider an electric fireplace. These appliances are just as functional as a space heater, but are much more aesthetically pleasing. And as opposed to a traditional fireplace you don't have to worry about fire hazards, soot, smoke or having to keep a supply of chopped wood. To help those who are in this market for the first time we're providing a list of what to look for in an electric fireplace.
Portable Versus Inserted
If you have an existing fireplace cavity you might want to look into an electric fireplace insert. You can convert a wood or gas fireplace to electric by installing an electric unit into the existing mantle. That said, if you don't already have a fireplace you can get a stand alone electric unit that doesn't require a fireplace cavity for installation.
Plug-In Versus Hardwired
You can also choose between units that simply plug into a wall socket or ones that need to be hardwired into the household power supply by an electrician. Hardwired units will give off more heat, but the plug-in units don't require any installation expertise to get them up and running. As an added bonus plug-in units are really easy to take with you if you plan to move.
Design
There is an almost unlimited number of fireplace designs when it comes to electric fireplaces. You don't have to choose the first one that falls into your cost range if its look doesn't quite fit with your household interior. Take some time to shop around and find something that's both fashionable and functional.
Options
There are a lot of extra bells and whistles that can come with a new electric fireplace. Ask yourself if some of these could enhance your lifestyle. Look at options such as timers, remote controls, brightness controls, variable heat settings, flame and smoke effects and thermostat controls. Electric fireplaces can last as long as 20 years, so getting one that's comfortable for you to use will ensure it's money well spent.
What to Look for in an Electric Fireplace